I'm putting together a film screening and psychedelic doom metal loft show / party of sorts. The film's awesome, the bands are super rad, it'll be a whole lotta fun. If you are in the area, please make it out!

More details below.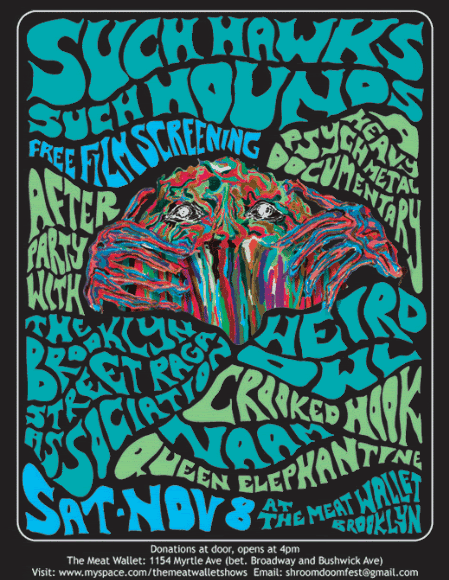 Free screening of heavy psych metal documentary "Such Hawks Such Hounds" featuring Dead Meadow, Kyuss, Comets on Fire, Bardo Pond, Pentagram, Sleep, Saint Vitus, etc.
(Such Hawks Such Hounds)

November 8, 2008 - Saturday
Doors at 4pm,
FILM STARTS AT 5PM
Please be nice and donate at the door.

After-party performances by:

Queen Elephantine
Naam
Crooked Hook
Weird Owl
The Brooklyn Street Raga Association

Address:
The Meat Wallet
1154 Myrtle Ave (between Broadway and Bushwick Ave)
Brooklyn, NY

This is someone's house. Be respectful and DON'T PEE ON THE FLOOR.